Over, Under, Through: Obstacle Training for Horses 50 Effective, Step-by-Step Exercises for Every Rider
, by
Bee, Vanessa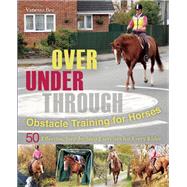 Note: Supplemental materials are not guaranteed with Rental or Used book purchases.
ISBN: 9781570767272 | 1570767270
Cover: Paperback
Copyright: 10/15/2015
Despite having over thousands of years selectively bred horses to be amenable to our ways of life, the fact remains that most of them still occasionally revert to being" wild," sometimes at the most inconvenient moments. This varies from horse to horse due to individual temperament and learned behaviors, but common to all horses is a three-million-year-old risk assessment and thought pattern when it comes to anything that could be a predator, or could hide a predator, or could provide a launch point for a predator—and the list goes on!

Because of the innate prey-animal fear in horses, and because their instinctual flight-or-fight reaction is dangerous to the humans around or on them, horses must be trained to accept strange or new situations and objects. While many training books have explained ways to progressively "desensitize" horses in the arena or round pen, this new book from horsewoman Vanessa Bee—Founder of the International Horse Agility Club and 3-Minute Horsemanship—takes the concept of teaching horses to accept what they think is terrifying out into the world around us.

When examining any common obstacle that might scare a horse, you can see that it is usually made up of one, two, or three elements: It is either over something, like a bridge, or involves going under something, such as low branches, or you must go through, as in a gateway. Sometimes there can be a combination of all three elements! To deal with such challenges, Bee has provided Six Blueprint Exercises to lay the foundation of skills you need as a trainer and a horse to go over, under, and through. Then, she takes us through 50 common scenarios—such as riding over white lines or dark shadows, or riding past farm animals or marshmallow hay bales—and illustrates with small, building-block steps and photos, what is needed to change the horse's reaction and behavior, assuring a smoother, safer ride down the road. With lessons explained in Bee's trademark "keep it simple" style, Over, Under, Through: Obstacle Training for Horses is one book from which every horse and horse owner will benefit.