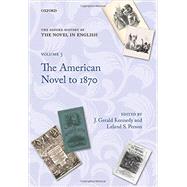 Note: Supplemental materials are not guaranteed with Rental or Used book purchases.
ISBN: 9780195385359 | 0195385357
Cover: Hardcover
Copyright: 7/25/2014
The Oxford History of the Novel in English is a 12-volume series presenting a comprehensive, global, and up-to-date history of English-language prose fiction and written by a large, international team of scholars. The series is concerned with novels as a whole, not just the "literary" novel, and each volume includes chapters on the processes of production, distribution, and reception, and on popular fiction and the fictional sub-genres, as well as outlining the work of major novelists, movements, traditions, and tendencies.

In thirty-four essays, this volume reconstructs the emergence and early cultivation of the novel in the United States. Contributors discuss precursors to the U.S. novel that appeared as colonial histories, autobiographies, diaries, and narratives of Indian captivity, religious conversion, and slavery, while paying attention to the entangled literary relations that gave way to a distinctly American cultural identity. The Puritan past, more than two centuries of Indian wars, the American Revolution, and the exploration of the West all inspired fictions of American struggle and self-discovery. A fragmented national publishing landscape comprised of small, local presses often disseminating odd, experimental forms eventually gave rise to major houses in Boston, New York, and Philadelphia and a consequently robust culture of letters. "Dime novels", literary magazines, innovative print technology, and even favorable postal rates contributed to the burgeoning domestic book trade in place by the time of the Missouri Compromise. Contributors weigh novelists of this period alongside their most enduring fictional works to reveal how even the most "American" of novels sometimes confronted the inhuman practices upon which the promise of the new republic had been made to depend. Similarly, the volume also looks at efforts made to extend American interests into the wider world beyond the nation's borders, and it thoroughly documents the emergence of novels projecting those imperial aspirations.