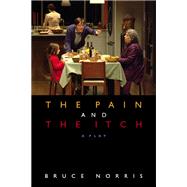 Note: Supplemental materials are not guaranteed with Rental or Used book purchases.
ISBN: 9780810124974 | 0810124971
Cover: Paperback
Copyright: 6/5/2008
In this brief but staggering two-act, playwright Norris demonstrates his skill at drawing out the dark truth that lurks beneath the surface of the "perfect" family. His crackling satire takes dead aim at the self-satisfied, left-leaning American upper-middle class and its many self-delusions. On a winter afternoon, Kelly and Clayan attractive, prosperous, seemingly happy couple with a four-year-old daughter and a newborn babymust explain to a visitor the events of the previous Thanksgiving, on which, so it seems, someone orsomethinghad been gnawing at the avocados on their kitchen table. In the course of this holiday gatheringattended by Clay's mother, a well-meaning but clueless first-grade teacher who spouts pointless liberal bromides; his brother, a plastic surgeon with a nihilistic streak and a taste for martinis; and his brother's girlfriend, a sexy Balkan immigrant with a love for all things American (racism included)the recent past is unearthed along with revelations of failed marriages, fraternal hatred, infidelity and venereal disease, in the form of their daughter's nasty genital infection. And it's a comedy. As the story is gradually unfolded to their visitor, a Muslim cab driver, his relationship to the events becomes increasingly clear, as does the emptiness of the family's supposed benevolence and sensitivity. With its crashing emotion and cutting humor, this vicious dissection of the comfortable progressive life lays bare the lies that people use to feel righteous even as they veer off a genuinely ethical path.