Passing : Identity and Interpretation in Sexuality, Race, and Religion
, by
Sanchez, Maria C.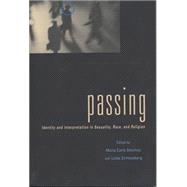 Note: Supplemental materials are not guaranteed with Rental or Used book purchases.
ISBN: 9780814781234 | 0814781233
Cover: Paperback
Copyright: 8/1/2001
Passing for what you are not--whether it is mulattos passing as white, Jews passing as Christian, or drag queens passing as women--can be a method of protection or self-defense. But it can also be a uniquely pleasurable experience, one that trades on the erotics of secrecy and revelation. It is precisely passing's radical playfulness, the way it asks us to reconsider our assumptions and forces our most cherished fantasies of identity to self-destruct, that is centrally addressed inPassing: Identity and Interpretation in Sexuality, Race, and Religion.Identity in Western culture is largely structured around visibility, whether in the service of science (Victorian physiognomy), psychoanalysis (Lacan's mirror stage), or philosophy (the Panopticon). As such, it is charged with anxieties regarding classification and social demarcation. Passing wreaks havoc with accepted systems of social recognition and cultural intelligibility, blurring the carefully-marked lines of race, gender, and class.Bringing together theories of passing across a host of disciplines--from critical race theory and lesbian and gay studies, to literary theory and religious studies--Passingcomplicates our current understanding of the visual and categories of identity.Contributors: Michael Bronski, Karen McCarthy Brown, Bradley Epps, Judith Halberstam, Peter Hitchcock, Daniel Itzkovitz, Patrick O'Malley, Miriam Peskowitz, María C. Sánchez Linda Schlossberg, and Sharon Ullman.