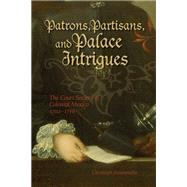 Note: Supplemental materials are not guaranteed with Rental or Used book purchases.
ISBN: 9781552382349 | 1552382346
Cover: Paperback
Copyright: 8/30/2008
Palace intrigues & clientelism drove politics at the viceregal court of colonial Mexico. By carefully reconstructing social networks in the court of Viceroy Duke of Alburquerque (1702-1710), Christoph Rosenmuuml;ller reveals that the Duke presided over one of the most corrupt viceregal terms in Mexican history. Alburquerque was appointed by Spain's King Philip V at a time when expanding state power was beginning to meet with opposition in colonial Mexico. The Duke & his retainers, though seemingly working for the crown, actually built close alliances with locals to thwart the reform efforts emanating from Spain. Alburquerque collaborated with contraband traders & opposed the secularization of Indian parishes. He persecuted several local craftsmen & merchants, some of whom died after languishing in jail, accusing them of treason to bolster his own credentials as a loyal official. In the end, however, the dominant clique at the royal court in Madrid sought revenge. Alburquerque was forced to pay an unheard-of indemnity of 700,000 silver pesos to regain the king's favour. Dealing with a topic & period largely ignored by historiography, Rosenmuuml;ller demonstrates the vast patronage power of the viceroy at the historical watershed between the expiring Habsburg dynasty & the incoming Bourbon rulers. His analysis shows that precursors of the Bourbon reforms & the struggle for Mexican independence were already at play in the early eighteenth century.