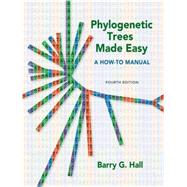 Note: Supplemental materials are not guaranteed with Rental or Used book purchases.
ISBN: 9780878936069 | 0878936068
Cover: Paperback
Copyright: 4/30/2011
Phylogenetic Trees Made Easy, Fourth Edition, helps students get started in creating phylogenetic trees from protein or nucleic acid sequence data. Although aimed at molecular and cell biologists, who may not be familiar with phylogenetic or evolutionary theory, it also serves those who have a theoretical understanding of phylogenetics but need guidance in transitioning to a practical application of the methodology. The student is led, step by step, through identifying and acquiring the sequences to be included in a tree, aligning the sequences, estimating the tree by one of several methods, and drawing the tree for presentation to an intended audience.

"Learn More" boxes present background on the various concepts and methods, and a Companion Website provides files needed for working through the tutorials in the text as well as additional software that facilitates some of the methods discussed.

Key Changes to the Fourth Edition

*The release of this new edition was prompted by the development of new versions of the major phylogenetic software discussed in the Third Edition, namely MEGA and MrBayes. MEGA5 not only has several capabilities that were not present in MEGA4, but it also involves a significantly altered interface. MrBayes 3.2 also has several important new features, and it requires input files that differ significantly from the templates provided in the Third Edition.

*Two important advanced topics have been added. Chapter 12 introduces a new web-based tool, GUIDANCE, that greatly facilitates making robust alignments by identifying both regions and sequences that contribute to poor alignment. Chapter 15 introduces the estimation of phylogenetic networks for circumstances where trees are an inadequate means of describing historical relationships because different genes, or different parts of a gene, have different evolutionary histories.

*Coverage of two subjects--estimation of phylogenetic trees by Maximum Likelihood and reconstruction of ancestral protein and gene sequences--has been completely rewritten because MEGA5 now offers those capabilities and readers no longer need to learn additional programs to carry out those methods. Using MEGA in place of MrBayes for the reconstruction of ancestral sequences not only simplifies but speeds up the process dramatically, reducing the time required from hours or days to seconds. A new utility program to facilitate parsing the MEGA output is provided.

*The fourth edition is illustrated by new screen shots throughout in order to show the current versions of all software. These illustrations are now in full color, enabling readers to more easily identify elements in which color plays an important informational role.

*This edition is organized into sixteen (versus eleven) chapters, to better isolate important topics. For instance, acquisition of sequences and alignment of sequences are now separated into independent chapters.

*About 75% of the text is completely rewritten.