Plutocrats The Rise of the New Global Super-Rich and the Fall of Everyone Else
, by
Freeland, Chrystia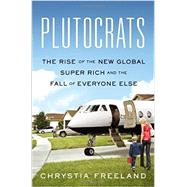 Note: Supplemental materials are not guaranteed with Rental or Used book purchases.
ISBN: 9781594204098 | 1594204098
Cover: Hardcover
Copyright: 10/11/2012
A deeply researched and profoundly timely expos╔ of income inequality Alarmingly insightful and refreshingly nonpartisan, PLUTOCRATS is the missing piece in our political conversation, a groundbreaking examination of wealth disparity. There has always been some gap between rich and poor in this country, but in the last few decades what it means to be rich has changed dramatically. While the wealthiest 10 percent of Americans now receive half the nation's income-the largest percentage in our history-the real money flows even higher up. Forget the 1 peró it's the wealthiest .1 percent who are outpacing the rest of us at breakneck speed. What's changed is more than numbers. Instead of inheritance, today's colossal fortunes are amassed by the diligent toiling of smart, perceptive businesspeople who see themselves as deserving victors in a cut-throat international competition. As a transglobal class of highly successful professionals, today's self-made oligarchs often have more in common with one another than with their countrymen back home. Cracking open this tight-knit world is Chrystia Freeland, an acclaimed business journalist on both sides of the Atlantic. At ease in Davos or Dubai, Freeland has reported on the lives and minds of these new super elites for nearly a decade. Grounding her interviews in the economics and history of modern capitalism, Freeland provides countless examples of the new wealth and its consequences. She reveals the internal Citigroup memo that urges clients to design portfolios around the international "Plutonomy" and not the national "rest"; discusses the auction of a massive ex-Soviet steel mill contested between a Luxembourg company, an Indian company registered in the Netherlands, and a consortium of Russians and Ukranian companies; showcases the three-million-dollar birthday party of a New York financier months before the financial meltdown; and details the closed-door 2005 SEC meeting in which the U.S. government allowed investment banks to write their own regulatory laws, with devastating consequences. A consummate journalist and industry specialist, Freeland dissects the lives of the world's wealthiest individuals with empathy, intelligence, and deep insight. Brightly written and powerfully researched, Freeland's PLUTOCRATSwill be a lightning rod event in the midst of this contested election season.