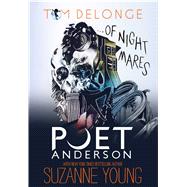 Note: Supplemental materials are not guaranteed with Rental or Used book purchases.
ISBN: 9781943272006 | 194327200X
Cover: Hardcover
Copyright: 10/6/2015
Winner of the silver Benjamin Franklin award for Best Teen Fiction and part of the critically acclaimed transmedia project Poet Anderson: The Dream Walker, comes what is hailed as a "teen Blade Runner, this book has nonstop action with dramatic, heart-pounding escapes" by the School Library Journal. Poet Anderson...Of Nightmares is a thrilling, edge of your seat story written by award-winning musician, producer and director Tom DeLonge and New York Times bestselling author Suzanne Young.

Poet Anderson...Of Nightmares follows the epic journey of two orphan brothers, Jonas and Alan, who are Lucid Dreamers. After a tragic car accident lands Alan in a coma, Jonas sets out into the Dream World in an attempt to find his brother and wake him up. What he discovers instead is an entire shared consciousness where fear comes to life as a snarling beast called a Night Terror, and a creature named REM is bent on destruction and misery, devouring the souls of the strongest dreamers to get closer to the Waking World. With the help of a Dream Walker—a guardian of the dreamscape, Jonas must face his fears, save his brother, and become who he was always meant to be: Poet Anderson.

Also keep an eye out for …Of Nightmares, the original soundtrack EP by Angels & Airwaves.
mpom





10/22/2015
It has been so long since I've come across a book that I not only finished in one sitting, but was left wanting more!

Poet Anderson...of Nightmares tells the story of two brothers who are lucid dreamers. After an unfortunate accident that leaves one of them in a coma, it is up to Jonas to battle his own emotional trauma in order to save his older brother from the dream world. Does he do it?! You will have to read to find out!

In addition to absolutely loving this book on a personal level, I have no doubt that it will turn non-readers into avid readers. As a high school English and Psychology teacher, I am in the process of eagerly developing a comprehensive curriculum around this book to share with my students in all my cl[censored]. I believe that not only will they relish in the rich character development and dialogue, but they will fully enjoy exploring the content more deeply from a psychoanalytic perspective (i.e. dream interpretations). I am looking forward to the moment they fall in love with the characters, identify with their emotions/experiences and become captivated by their adventures!

Karina





10/22/2015
YA dystopias are very common in modern literature. You have to spend quite some time to find something interesting.
This story gives YA a new life.
Authors take a very simple and very famous idea of dreams and completely change the way we all think of it.
What if there was a place our minds travel to while we are sleeping? And some people - lucid dreamers - know when they are dreaming and are able to control parts of it. And of course there are nightmares - materialisation of fear. They haunt troubled and helpless.
It all makes a very interesting and unique setting. It's very captivating to see something so familiar presented in such unusual way.
We follow the life of a young lucid dreamer - Jonas Anderson and him fight his fears trying to find his brother in the dream world to wake him up from a coma. Authors did an excellent job with character development, plus Jonas is very relatable - he's just a teen, even though his life has a bigger purpose than most.
Story itself is quite dark, it's full of tragedy but it's sprinkled with romance, comedy, action...and all of that felt nicely balanced. Important to note that this story is heavily based on feelings, senses. It's like the book has it's own soul. You are not just reading the story - you can feel everything: pain, love, frustration, hope.
You don't often see male lead being open to communication or vulnerable and expressing his emotions without holding back. Authors nailed that. Jonas is tough and we get to see that but he also shows his sensitive side and I think that's very important. It gives a message that it's totally okay for guys to show emotions, they don't have to be tough all the time. It doesn't make you any less of human. In fact, as shown in the book, emotions can be your biggest power.
Main female character is kind of the opposite - she starts off in a bit stereotypical way, popular pretty rich girl. But she is far from shallow. Sam is determined, self-sustained, tough and even a bit stubborn. Not afraid to get dirty. She seems like a great role model. Beauty does not exclude being smart and combative. Sam is great example of that - not afraid to love, not afraid to fight.
To sum up - this is a very well-written story with interesting world and great character development. It brings a nice message for kids
kaseypoet





10/21/2015
Poet Anderson ...Of Nightmares is the story of a teenage boy who has undergone serious tragedy and must do what it takes to protect the ones he loves. In Poet's universe, the Dream World and Waking World are interconnected realities that both have dire consequences. Poet has the power of Lucid Dreaming, which he learns how to craft throughout the novel in order to overcome his nightmares and become a hero.

This book blends sci-fi, romance, and suspense all into one. You have elements that echo Tron and Star Wars that provide excitement and awesome imagery, while you have a romance that keeps Poet grounded to the Waking World as he navigates the unpredictable (and sometimes hellish) Dream World. The book has you engaged and interested the whole time and leaves you wanting more at the end.

For fans of Tom DeLonge's music who are skeptical--you know that special feeling you get while listening to blink-182 or Angels and Airwaves? You get that same feeling reading this book. The themes that DeLonge has preached throughout his musical career--human consciousness, achieving the impossible, and yes, plenty of profanity--they're all here in the form of a novel. Better yet, the companion AVA EP is on iTunes so you can get the best of both worlds.

I was not aware of Suzanne Young before this book but now I'm a huge fan. The writing style is accessible while remaining engaging throughout. She is best known for her bestselling The Program series that explores dark topics coupled with gripping romance. In Poet Anderson she explores more of these ideas, but this time in relation to dreams and with a lot more action (and glowing motorcycles). Death, destruction, and the treacherous waters of high school romance are all explored beautifully by Young in a way that will captivate a wide demographic of audiences.

Definitely pick up the book if you want a new and engaging YA book. It's the type of story that could easily be seen on the big screen soon.
Poet Anderson... of Nightmares

:
stars based on
3
user reviews.