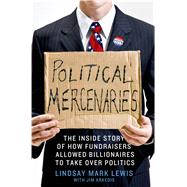 Note: Supplemental materials are not guaranteed with Rental or Used book purchases.
ISBN: 9781137279583 | 1137279583
Cover: Hardcover
Copyright: 10/21/2014
When Bill Clinton defeated George H.W. Bush in 1992, their campaigns spent a total of $192 million—combined! In 2012, Barack Obama and Mitt Romney spent over $7 billion, including outside funding from superPACs—nearly 37 times more than just 20 years earlier.
All that money didn't appear out of thin air. In Political Mercenaries, Lindsay Mark Lewis tells the outrageous tale of the fledgling days of fundraising and how he raised over $200 million for the Democratic Party, its candidates, and its causes over a fifteen-year career. Sure to raise the eyebrows of everyone from ordinary citizens to Citizens United, he pulls back the veil of secrecy that has shrouded the relationships between politicians and their financial backers in this thought-provoking and laugh-out-loud insider account.
The outrageous Lewis starts off as a wide-eyed 22-year-old who thinks raising political money is a means to an end—helping Democrats win. Lewis' tactics aren't for the faint of heart. Along the way, he launders $40,000 from an (allegedly) murdered casino mogul, smuggles marijuana, and passes an Elvis impersonator off as Bill Clinton! But he becomes increasingly conflicted as he continues to sell access to politicians in exchange for ever-larger checks and a loss of control over the party's priorities. Lewis eventually rises to his party's top fundraising post at the Democratic National Committee, and attempts to redeem himself by waging an ultimately losing battle against the party's elite billionaire donors, who force him out.
Contrary to conventional wisdom, Lewis and co-author Jim Arkedis conclude that the real damage isn't the raw amount of money spent on elections, but rather the amount of time politicians spend raising it. It's time they should spend governing. And Lewis lays much of that blame at the feet of the Democratic Party, who sold out—not to corporate or lobbying interests, but to a very few liberal wealthy elites.