The Politics of Protection Rackets in Post-New Order Indonesia: Coercive Capital, Authority and Street Politics
, by
Wilson
;
Ian Douglas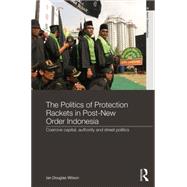 Note: Supplemental materials are not guaranteed with Rental or Used book purchases.
ISBN: 9780415569125 | 0415569125
Cover: Hardcover
Copyright: 4/8/2015
Since the end of Suharto's New Order there have been significant positive changes in Indonesia, but there are also distinct and alarming continuities with the past that represent a major challenge to the development of stable democratic institutions and the rule of law.Wilson investigates the increase of institutionalised political thuggery through detailed case studies of some of the paramilitary groups, vigilantes, gangs and other entrepreneurs in violence that have emerged.A number of thematic questions will be explored in this book:What are the implications of the increasing prevalence of predatory coalitions between gangsters and political parties in setting political regime directions?What are the implications of the emergence of a distinct class of entrepreneurs in violence, and the trading of violence as a market resource?How have violent entrepreneurs reconfigured themselves in relation to new forms of social and political power? And what means have they deployed to legitimize racketeering and the use of coercive force?What social, cultural and political forces are attempting to counter and resist this 'uncivil society' and the use of violence and coercion as a legitimate form of political communication and strategy?Wilson demonstrates that organised political violence may have collapsed as a centralised state strategy, but has re-emerged as a commodity used by non-state actors for the pursuit of particular social, economic and political agendas and the establishment and maintenance of localised monopolies.This ground-breaking new work will be of interest to anyone studying Indonesia, Southeast Asian Politics and State violence.