Portraits of 'the Whiteman': Linguistic Play and Cultural Symbols among the Western Apache
, by
Keith H. Basso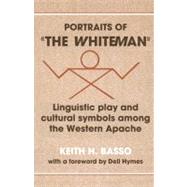 Note: Supplemental materials are not guaranteed with Rental or Used book purchases.
ISBN: 9780521295932 | 0521295939
Cover: Paperback
Copyright: 8/31/1979
'The Whiteman' is one of the most powerful and pervasive symbols in contemporary American Indian cultures. Portraits of 'the Whiteman': linguistic play and cultural symbols among the Western Apache investigates a complex form of joking in which Apaches stage carefully crafted imitations of Anglo-Americans and, by means of these characterizations, give audible voice and visible substance to their conceptions of this most pressing of social 'problems'. Keith Basso's essay, based on linguistic and ethnographic materials collected in Cibecue, a Western Apache community, provides interpretations of selected joking encounters to demonstrate how Apaches go about making sense of the behaviour of Anglo-Americans. The portraits developed in these texts are understood as models of Whitemen and for dealing with Whitemen created by Apaches for Apaches. More obliquely, they also express Apaches' conception of themselves, for 'the Whiteman' has long been a symbol of what 'the Apache' is not. This study draws on current theory in symbolic anthropology, sociolinguistics, and the dramaturgical model of human communication developed by Erving Goffman. Although the assumptions and premises that shape these areas of inquiry are held by some to be quite disparate, this analysis shows them to be fully compatible and mutually complementary. In order to make explicit the meanings of joking texts, Basso examines in detail the abstract principles, both linguistic and nonlinguistic, for constructing and interpreting joking imitations in the context of face-to-face encounters. An exercise in cultural interpretation, this essay is also a study of ethnographic theory, the anthropology of play, American Indian humor, and the function of ethic boundaries in the everyday life of a modern Western Apache community.