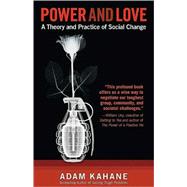 Note: Supplemental materials are not guaranteed with Rental or Used book purchases.
ISBN: 9781605093048 | 1605093041
Cover: Trade Paper
Copyright: 12/26/2009
War is no way to resolve our most problematic group, community, and societal issues, but neither is a peace that simply sweeps our problems under the rug.
To create lasting change we have to learn to work fluidly with two distinct, fundamental drives that are in tension power the single minded desire to achieve one's solitary purpose and love the drive towards unity. They are seemingly contradictory but in fact complimentary. As Martin Luther King put it, Power without love is reckless and abusive, and love without power is sentimental and anemic. Using revealing stories from complex situations he has been involved in all over the world the Middle East, South Africa, Europe, India, Guatemala, the Philippines, Australia, Canada and the United States Kahane reveals how to dynamically balance these two forces. Just as when we are toddlers we learn to shift from one foot to the other to move ourselves forward, so we can learn to shift back and forth between power and love in order to move society forward.
"Adam's Solving Tough Problems helped me understand that all of our pressing problems be they strategic issues inside a company or societal challenges like conflict, poverty, or climate change require that those with a stake and the power to act come together in open dialogue to create a joint diagnosis and a deep commitment to moving forward together. In Power and Love, Adam goes further and deeper, into the kind of leadership that it takes to do this."-Ravi Venkatesan, Chairman, Microsoft India
"It isn't eitheror it's both and In this deceptively brief and clearly written book, Adam Kahane takes us through his own learning process to a way of acting in and on the world that is both effective and caring. Intelligent, insightful, satisfying and inspiring."-Mary Catherine Bateson, author of Composing a Life and Willing to Learn
"Kahane is a master practitioner and thinker who knows the highs and lows of solving some of the toughest problems of social discord. Power and Love is both instructive and inspiring."-Patrick Dodson, winner of the Sydney Peace Prize and Founding Chairman, Council for Aboriginal Reconciliation
"This book is a must read for business leaders who are coming to recognize that to continue to thrive, business must join forces with interest groups, communities, and government to address the wicked sustainability challenges of our time. Kahane shows us how."-Diane Osgood, Vice President, Business for Social Responsibility