The Practicing Mind Developing Focus and Discipline in Your Life ? Master Any Skill or Challenge by Learning to Love the Process
, by
Sterner, Thomas M.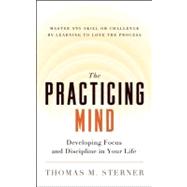 Note: Supplemental materials are not guaranteed with Rental or Used book purchases.
ISBN: 9781608680900 | 1608680908
Cover: Paperback
Copyright: 4/10/2012
We've all learned many skills through practice; we've just forgotten how. A child's first steps, for example, or riding a bike, or learning to read or write. As children, we existed in the present moment, so we didn't grow frustrated if we didn't reach our goal on the first try. We got up and tried again. Everything we learn and master in life, from walking and tying our shoes to saving money and raising a child, is accomplished through a form of practice, something we repeat over and over again. For the most part, we are not aware of the process as such, but that is how good practice manifests itself when done properly. It carries no stress-laden anticipation of "when is the goal going to be reached?" When we practice anything properly, the fact that we are engaging in a difficult learning process not only disappears, but more importantly it dissolves into a period of inner calming that gives us a rest from the tension and anxiety that our "get it done yesterday" world pushes on us every day of our lives. For this reason, it is important to recognize and be in control of the process and to learn to enjoy that part of life's activity. The Practicing Mind will help readers relearn that level of commitment and focus, showing them that when they reside in the present moment, practice becomes effortless and enjoyable, and often the practice becomes the goal, as we take baby steps but relish each of those steps.