The Price of Civilization: Reawakening American Virtue and Prosperity
, by
SACHS, JEFFREY D.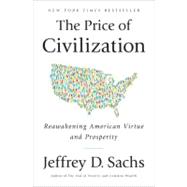 Note: Supplemental materials are not guaranteed with Rental or Used book purchases.
ISBN: 9781400068418 | 140006841X
Cover: Hardcover
Copyright: 10/4/2011
One of the world's most brilliant economists and the bestselling author of The End of Poverty and Common Wealth, Jeffrey Sachs has written a new book that is essential reading for every American. The Price of Civilization is the blueprint for America's economic recovery. It is also the story of how America can and must restore the virtues of fairness, honesty, and foresight as the foundations of national prosperity. As he has done in dozens of countries around the world in the midst of economic crisis, Sachs turns his unique diagnostic skills to what ails the American economy. He finds that both political parties have missed the big picture: how globalization has reshaped economic life in America and around the world, thereby posing profound and largely unmet challenges for jobs, incomes, poverty, and the environment. America's biggest single economic failure, Sachs argues, is its failure to come to grips with the new global economic realities. Yet Sachs goes deeper than an economic diagnosis, by asking why it is that Washington has consistently failed to address America's economic needs. He describes a political system that has lost its ethical moorings, in which ever-rising campaign contributions and lobbying outlays overpower the voice of the citizenry. Washington, Sachs argues persuasively, has stopped representing the people and instead has turned the levers of power over to the corporate sector. Both parties are implicated, so that Washington lurches from one disappointing administration to the next, irrespective of party. Sachs offers a plan to turn the crisis around, to rebuild America's economy and politics. He argues persuasively that the problem is not with America's abiding values, which remain generous, pragmatic, and optimistic, but with the ease with which PR and political spin run circles around those values. He bids the reader to accept the price of civilization-the responsibility to put into practice the virtues of good citizenship and mindfulness toward the economy and one another-so that together we may restore America to its great promise. The Price of Civilization is a masterly road map to prosperity, founded on America's deepest values and on a rigorous understanding of the twenty-first-century world economy. From the Hardcover edition.