Pricing Your Portraits High-Profit Strategies for Photographers
, by
Smith, Jeff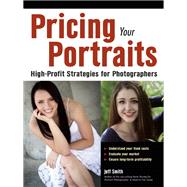 Note: Supplemental materials are not guaranteed with Rental or Used book purchases.
ISBN: 9781608958719 | 160895871X
Cover: Paperback
Copyright: 5/12/2015
Portrait photographers agree that one of the most important yet shrouded aspects of running a successful business is accurately pricing your products for profit. Some charge too little, then scramble to photograph and edit photos for throngs of clients, only to become overwhelmed and burn out. Others price too low initially, just to get people in the door, but soon mark up their prices and lose clients to new photographers who charge rock-bottom prices. There are still others who price themselves out of the game right out of the gate.

Jeff Smith, owner of two thriving portrait studios teaches you how to tackle one of photography's most vexing problems—working out a pricing structure that allows you to cover your costs and clear a profit that you can live comfortably with. Smith begins by showing you methods that he—and countless other pros—have used in a misguided attempt to reap a great cash flow, helping you avoid time-and-revenue-burning missteps. Next, he walks you through the process of figuring out where your money goes—How much should you shell out for new equipment? What falls into the category of "overhead?" How much do you need to pay your staff and yourself?—and then moves on to show ways to cut costs, price individual prints and packages, maintain your desired business volume, retain existing clients, and delegate tasks in order to work smartly toward profitability—all while enjoying your work and achieving professional and creative satisfaction.