Private Empire : ExxonMobil and American Power
, by
Coll, Steve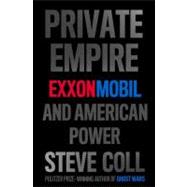 Note: Supplemental materials are not guaranteed with Rental or Used book purchases.
ISBN: 9781594203350 | 1594203350
Cover: Hardcover
Copyright: 5/1/2012
Two-time Pulitzer Prize winner Steve Coll goes deep inside ExxonMobil Corp, the largest and most powerful private corporation in the United States In Private Empire, Steve Coll investigates the notoriously secretive ExxonMobil Corporation, revealing the true extent of its power. ExxonMobil's annual revenues are larger than the economic activity in the great majority of countries, equivalent to the GDP of Norway. In many of the countries where it conducts business, ExxonMobil's sway over politics and security is greater than that of the United States embassy. In Washington, ExxonMobil spends more money lobbying Congress and the White House than any other corporation. Yet despite its outsized influence, it is a black box. Private Empirebegins with the Exxon Valdezaccident in 1989 and closes with the Deepwater Horizonoil spill in the Gulf of Mexico in 2010. The narrative spans the globe, taking readers to Moscow, impoverished African capitals, Indonesia, and elsewhere in heart- stopping scenes that feature kidnapping cases, civil wars, and high- stakes struggles at the Kremlin. At home, Coll goes inside ExxonMobil's K Street office and corporation headquarters in Irving, Texas, where top executives in the "God Pod" (as employees call it) oversee an extraordinary corporate culture of discipline and secrecy. The action is driven by larger than life characters, including corporate legend Lee "Iron Ass" Raymond, ExxonMobil's chief executive until 2005. A close friend of Dick Cheney's, Raymond was both the most successful and effective oil executive of his era and an unabashed skeptic about climate change and government in all its aspects. The larger cast includes Raymond's successor, Rex Tillerson, who broke with Raymond and tried to reset ExxonMobil's public image; as well as the countless world leaders, plutocrats, dictators, guerrillas, and corporate scientists who are part of ExxonMobil's colossal story. The first hard-hitting examination of ExxonMobil, Private Empireis the masterful result of Steve Coll's indefatigable reporting. He draws here on more than four hundred interviews; field reporting from the halls of Congress to the oil-laden swamps of the Niger Delta; more than one thousand pages of previously classified U.S. documents obtained under the Freedom of Information Act; heretofore unexamined court records; and many other sources. A penetrating, newsbreaking study, Private Empirewill be the definitive portrait of ExxonMobil.