The Pumpkin Plan A Simple Strategy to Grow a Remarkable Business in Any Field
, by
Michalowicz, Mike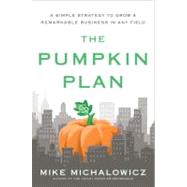 Note: Supplemental materials are not guaranteed with Rental or Used book purchases.
ISBN: 9781591844884 | 1591844886
Cover: Hardcover
Copyright: 7/5/2012
Each year, Americans start one million new businesses, nearly eighty percent of which fail within the first five years. Too often, entrepreneurs succumb to the pressure to grow as quickly as possible by getting caught up in a never-ending cycle of sell-deliver, sell-deliver, sell-deliver that leaves them exhausted, frustrated and feeling hopeless. This is the exact situation in which Mike Michalowicz found himself when he was trying to grow his first company. Although the company was making steady money, there was never very much left over, and although Michalowicz was chasing customers left and right, putting in 16-hour-days, seven days a week, the punishing grind never let up. That's when he discovered the Pumpkin Plan. After reading an article about a local farmer who had dedicated his life to growing giant pumpkins, Michalowicz realized that the same process could apply to growing a giant business. After implementing the Pumpkin Plan on his own company, he transformed it into a specialized multi-million dollar firm. So what is the Pumpkin Plan? Plant the right seeds:Don't waste your time with a lot of ideas that may or may not work. Instead, identify the one idea that has the best chance of success and focus all of your attention, money and time on it. Get rid of the losers:In a pumpkin patch, small, rotten pumpkins stunt the growth of the robust and healthy ones. The same is true of your customers. Figure out which customers add the most value and provide the most opportunities for sustained growth. Then ditch the rest of them. Nurture the winners: Once you figure out who your best customers are, take care of them. Ask them for feedback on how you can serve them better and over deliver in everything you do. Mike Michalowicz tells us you don't need to do more; you just need to do different. Like having a frank conversation with a friend, Michalowicz guides you through his unconventional marketing and management strategies, as well as useful assessments to help you grow a company without going through the same pain he did.