Radioactive: Marie & Pierre Curie: A Tale of Love & Fallout
, by
Redniss, Lauren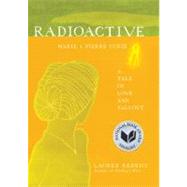 Note: Supplemental materials are not guaranteed with Rental or Used book purchases.
ISBN: 9780061351327 | 0061351326
Cover: Hardcover
Copyright: 12/21/2010
The name Marie Curie is enshrined in every schoolchild's mind as one of the earliest and most inspirational female pioneers in the history of science. Yet the rich, vivid, and romantic story of Marya Salome Sklodwska-the young Polish national who discovered radioactivity-has been lost to time . . . until now, in the pages of this stunning, wildly creative, and uniquely moving visual biography by one of the most creative artistic talents working today. Lauren Redniss, a celebrated New York Times illustrator and storyteller, has thrown herself deeply and passionately into researching the story of the real Marie Curie; of her passionate and tragic romantic life; and of the century of scientific innovation and controversy that sprang from her discovery of radium and went on to change the course of world history. Drawing on her original archival research in Europe and the United States-and a host of new interviews with Curie family members and scientists who carry on the Curie tradition-Redniss has created a fascinating and deeply moving book. A visually stunning work of illustrative art, Radioactive walks the reader through the story of Curie's own life, which was marked by both extraordinary scientific discovery and dramatic personal trauma-from her romantic partnership with Pierre, through his tragic decline from radium poisoning and death in a traffic accident, to the scandalous affair with another fellow scientist that almost cost her her second Nobel Prize. But it also casts an eye forward, to survey the changes wrought by Curie's discovery of radioactivity-illuminating the path from the Curie laboratory past the bright red mushroom clouds in the Nevada desert through Three Mile Island and the advance in radiation therapy and nuclear power today. Whether young or old, scientific novice or expert, no one will fail to be moved by Lauren Redniss's eerie and wondrous evocation of one of history's most intriguing figures.