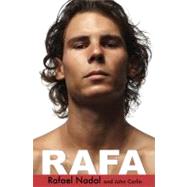 Note: Supplemental materials are not guaranteed with Rental or Used book purchases.
ISBN: 9781401324513 | 1401324517
Cover: Hardcover
Copyright: 8/23/2011
First the disclaimer: I'm a sold out Rafa Nadal fan. I appreciate everything about his game but, even more what is seen as him the person. In an age of Egos larger than life in professional sports, and lifestyles that overstep the limits of decency, Rafa could not be more different. This book not only outlines this as fact, but reinforces what many would take for granted these days; there are few things more priceless than a strong family. In terms of reading this from a tennis player's perspective, this is not a book about technique. However, Rafa's first-person account of what he was saying to himself, what his mental success and failure points were, is in my perspective, in the same league with, if not of more practical use, than The Inner Game of Tennis, Winning Ugly by Brad Gilbert, or any other book that addresses the mental approach to tennis. There is a tremendous amount to learn from his approach. Second disclaimer: The book has only been out for 24 hours and I'm only 2/3 of the way through it. Specifically, the book is just starting to discuss the 2010 US Open. But, I can't put it down (Well, in fact I have to. I have to go to work). I'm willing to bet that, if you read about tennis, play tennis, or in any way are interested in Rafa, you'll have the same experience I'm having reading this book. One last perspective. If there's aver a second book written By Rafa and his team, I hope it's about how he transitions from Tennis to whatever is next in his life. That could be a sequel even more interesting to read.