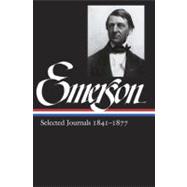 Note: Supplemental materials are not guaranteed with Rental or Used book purchases.
ISBN: 9781598530681 | 1598530682
Cover: Hardcover
Copyright: 4/1/2010
When Emerson died in 1882 he was the most famous public intellectual in America. Yet his most remarkable literary creation-his journals- remained unpublished. Begun when he was a precocious Harvard junior of 16 and continued without significant lapse for almost 60 years, Emerson's journals were his life's work. They were the starting point for virtually everything in his celebrated essays, lectures, and poems; a "Savings Bank," in which his occasional insights began to cohere and yield interest; a commonplace book, in which he gathered the choicest anecdotes, ideas, and phrases from his voracious and wide-ranging reading; and a fascinating diary in the ordinary sense of the term. It would be a hundred years after his death before these intimate records would appear in print in their entirety, and they are still, at over three million words, among the least known and least available of Emerson's writings. The journals reveal what Emerson called "the infinitude of the private man"-by turns whimsical, incisive, passionate, curious, and candid-in astonishing new ways. With Selected Journals 1841-1877and its companion volume Selected Journals 1820-1842, The Library of America presents the most ample and comprehensive nonspecialist edition of Emerson's great work ever published-one that retains the original order in which he composed his thoughts and preserves the dramatic range of his unique style in long, uninterrupted passages, but without the daunting critical apparatus of the 16-volume scholarly edition. This volume opens with an Emerson at the height of his powers, soon to write his celebrated essays "Experience" and "Self-Reliance," and in the midst of a vibrant intellectual circle. It follows his anguished reactions to the nation's intensifying political turmoil: his anger at the Fugitive Slave Law of 1850, his antislavery activism, and his day- to-day experience of the Civil War (including a wartime trip to Washington, D.C., where he met President Lincoln). Along the way, he laments untimely losses: his first-born son Waldo at the age of five, and his friends Henry David Thoreau and Margaret Fuller. By the end of his life, Emerson was a revered national figure; the volume includes his final journal writings. Edited by Lawrence Rosenwald-Anne Pierce Rogers Professor of American Literature at Wellesley College and author of Emerson and the Art of the Diary-each volume includes a 16-page portfolio of images of Emerson and his contemporaries, a note on the selections, extensive notes, biographical sketches, a chronology, and an index.