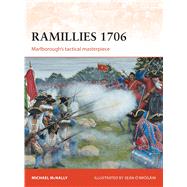 Note: Supplemental materials are not guaranteed with Rental or Used book purchases.
ISBN: 9781782008224 | 1782008225
Cover: Paperback
Copyright: 10/21/2014
Ramillies 1706 details one of the most important clashes in the War of the Spanish Succession, a battle that secure the Duke of Marlborough's place in history and helped determine the future of Europe.
In 1706, as the War of Spanish Succession dragged on, France's Louis XIV was eager for peace, but he wanted it on his terms. Therefore, rather than standing on the defensive, French armies on all fronts swung over to the offensive. Marlborough decided to counter by launching a pre-emptive strike. The two sides met at Ramillies on May 23rd.
Enjoying an almost parity in numbers the French took up position along a river line, anchoring each of their flanks on a marshy area, thereby surrendering the initiative to Marlborough, who proceeded to probe against both flanks. Using a series of deceptions and feints, Marlborough took advantage of a concealed re-entrant to reinforce his center which, at that time, was cannonading the French positions. Unaware of this, the French general Villeroi drastically weakened his center in order to reinforce the threatened sector. Seizing the opportunity, Marlborough launched an overwhelming attack on his own terms.
In the wake of two massive cavalry mêlées, during one of which Marlborough was unhorsed and almost killed, the allied troops shattered the French, inflicting over 20,000 casualties--almost one third of the Franco-Hispano-Bavarian army--at a cost of less than 4,000 men, thus paving the way for allied forces to overturn the French position in Flanders, and in the process capturing several strategically important towns and cities including Brussels, Bruges, Louvain and Antwerp.
In short, whilst Blenheim in 1704 had been a masterpiece of strategic maneuver that had wrong footed the Franco-Bavarian armies and removed the threat to Vienna, it was Marlborough's tactical intuition on the field of Ramillies that had led to perhaps his finest battlefield performance and paved the way for a campaign that would see much of Flanders come under Allied control.