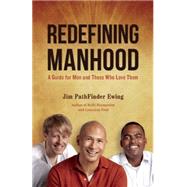 Note: Supplemental materials are not guaranteed with Rental or Used book purchases.
ISBN: 9781844096602 | 1844096602
Cover: Paperback
Copyright: 4/14/2015
While women have forged ahead in the workplace and society, men are finding themselves increasingly marginalized, socially, professionally, economically — enough so that one book on bestseller lists recently has been titled The End of Men. This has led to calls for a men's movement and courses are being taught, but they are failing to find traction among men. The reason should be plain: where once Iron John stood as an archetype, along with the King, Warrior, Lover and Magician, those roles have become sadly outdated. The old archetypes of manhood no longer apply.

In this book, the author of six books on energy medicine, Native American spirituality and mindfulness, outlines why the current courses on men's empowerment are failing and offers a new way of looking at male roles that edates the modern era. It is a "back to the future" approach to manhood that actually is better suited for the male psyche, having existed for thousands of years in all parts of the globe. Modernized, this "survival kit" for the male gender can revitalize male and female relations on a more balanced and time-honored footing. This book serves as a self-help manual for men, a guide for men's retreats, and a primer for wives, daughters, mothers and female friends to help the men in their lives adopt a newer, healthier way of living in balance with a society that is rapidly shifting its roles.

Other books on this topic repeat tired stereotypes of the "king," "lover," "warrior," "magician" and similar shorthand versions of men's roles; but those roles no longer hold much value in today's society. In a society where women have more education and higher earning capacity than men, a woman can be "king." Women no longer sit idly waiting to be awakened by a Prince Charming; they are active lovers, emancipated from the Sleeping Beauty archetype. If men try to adopt outdated "lover" roles, they find themselves alone, even pitied. Women are warriors, and magicians, and welders, firefighters and CEOs. An "Iron John" who wishes to retreat into what he is taught is his strength in masculinity — the wild man of ancient times — will find himself alienated and out of step with reality. Conversely, if men try to adopt feminized versions of men's roles, they will find themselves equally marginalized. Women don't need men to be women. Nor do they need men who patronize them. This book teaches men how to be men in a new (yet time-tested way) by reevaluating how they were brought up and determining which behaviors are suitable for adopting, and which are suitable for rejecting.