Reforming Saints Saints' Lives and Their Authors in Germany, 1470-1530
, by
Collins, David J.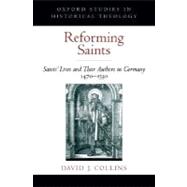 Note: Supplemental materials are not guaranteed with Rental or Used book purchases.
ISBN: 9780195329537 | 0195329538
Cover: Hardcover
Copyright: 1/29/2008
In Reforming Saints, David J. Collins explains how and why Renaissance humanists composed Latin hagiography in Germany in the decades leading up to the Reformation. Contrary to the traditional wisdom, Collins's research uncovers a resurgence in the composition of saints' lives in the halfcentury leading up to 1520. German humanists, he finds, were among the most active authors and editors of these texts. Focusing on forty Latin depictions of German saints written between 1470 and 1520, Collins finds patterns both in how these humanists chose their subjects and how they presented their holiness. He argues that the humanist hagiographers took up the writing of saints' lives to investigate Germany'smedieval past, to reconstruct and exalt its greatness, and to advocate programs of religious and cultural reform. This literature, says Collins, left a legacy that polemicists and philologists in Catholic Europe would be using for their own purposes by the end of the sixteenth century. Thesehagiographic writings are thus both reflective and formative of the religious and cultural conflicts that defined this period of European history. To bolster his case, Collins draws not only on the Latin saints' lives, but also on vernacular lives, maps and chorographic documents, personal andprofessional letters, papal, urban, and municipal archives, painting, sculpture and broadside print, and medieval and early modern histories and chronicles. The result is a fresh, new portrait of the humanism of Renaissance Germany. With his surprising and insightful conclusions, Collins sheds new light on humanism's appropriation in Germany, particularly in its religious aspect. He approaches the humanists' writings on their own terms and recaptures the creative energy the humanists brought to the task of revising thelegends of the saints. His scholarly perspective includes the roles of emperors, princes, abbots, city councilmen, artists, librarians, soldiers, peasants, and pilgrims, showing how humanists reached larger and less learned audiences than many other kinds of writing ever could. The cult of thesaints and Renaissance humanism are two topics that have attracted considerable scholarly attention. Reforming Saints considers them as seldom before - at their intersection.