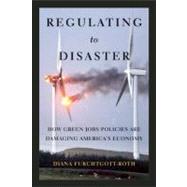 Note: Supplemental materials are not guaranteed with Rental or Used book purchases.
ISBN: 9781594036163 | 1594036160
Cover: Hardcover
Copyright: 8/28/2012
Green Jobs, Sick Economy debunks the myth that government "investment" in green jobs helps Americans and America's economy. Rather, spending to promote green jobs harms the economy by raising energy prices and reducing employment. Whereas some green jobs may be created, many more manufacturing and energy-intensive jobs are driven offshore, leading to high unemployment rates and driving more jobs abroad. Green jobs are the most recent reappearance of a perennial idea--industrial policy to promote certain industries. This has failed in the past, both in the United States and in other countries. President Obama's advocacy of green jobs, and clean energy jobs, has become an excuse for reforming the economy with expensive industrial policies. Spending on green jobs includes tax subsidies and direct grants for broadband, electric cars, renewable energy (such as wind, solar, and biofuels), mass transit, high speed rail, and environmental rehabilitation. Many new green jobs--for manufacture of solar panels, wind turbines, and electric batteries, for instance--are being created in China and South Korea, not in the United States. Green jobs initiatives result in a higher cost of energy to businesses, driving them to locate in other countries, and to households, who can afford fewer goods. A green jobs policy in the United States means more jobs abroad, so our unemployment rate will remain high. Studies showing that green jobs policies create jobs and innovation in the economy are fundamentally flawed. Green jobs are not defined--some are in construction, some exist already but are reclassified, some are temporary. Studies come up with inconsistent results. One study, by the Center for American Progress, estimates that an "investment" of $50 billion will result in a million new jobs in one year. Another, by the Center for Energy Efficiency and Renewable Technologies, calculates that "investing" $50 billion a year will result in 500,000 new jobs annually. In all these studies there is no mention of alternative uses for the capital investment, say for tax cuts, fixing entitlement programs such as Social Security of Medicare, or domestic production. There is no analysis of jobs destroyed through the creation of green jobs, such as ending jobs in coal production, oil exploration and refining, traditional auto production, and incandescent electric light bulbs. A green jobs policy, while raising energy prices and unemployment nationally, also has disparate geographical effects. Regulation of carbon will be especially harmful to jobs in Pennsylvania, Ohio, Kentucky, West Virginia, and Tennessee, coal-producing states. The failure of the Interior Department to resume permits for drilling in the Gulf of Mexico hurts business in the Gulf states. The green jobs movement began through a coalition of union leaders and environmentalists, and was designed to operate for their joint benefit. Green jobs mentioned by the president are union jobs, with health insurance, paid vacation, and sick leave. Two major lobbyists are the Apollo Alliance, a group of union officials and environmentalists, and the Center for American Progress (whose president, John Podesta, is on the board of the Apollo Alliance). Union members of the Apollo Alliance include Leo Gerard, president of the United Steelworkers Union; Gerald Hudson, vice president of the Service Employees International Union; and Terence O'Sullivan, president of the Laborers International Union. Environmentalist board members include Mindy Lubber, president of CERES; and Carl Pope, president of the Sierra Club. The green jobs movement is also blooming among international organizations in Europe and Asia. The Green Jobs Initiative has been launched jointly by the United Nations Environment Programme, the International Labour Organization, the International Employers Organization, and the International Trade Union Confederation. Through conferences and recommendations, their mission "supports a concerted effort by governments, employers and trade unions to promote environmentally sustainable jobs and development in a climate-challenged world."