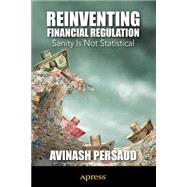 Note: Supplemental materials are not guaranteed with Rental or Used book purchases.
ISBN: 9781430245575 | 1430245573
Cover: Paperback
Copyright: 6/17/2015
What would a well-regulated financial system look like?¬ Up until now, policymakers, financial experts, and leading academics the world over have been content to avoid offering concrete answers to this pressing question, preferring instead to advocate for worthy but lukewarm reforms that ultimately leave the global financial system exposed to the very same risks that so recently brought it to its knees.¬ But¬ the world economy literally cannot afford to dodge this question any longer-which is why, inReinventing Financial Regulation, Avinash Persaud tackles it head-on. Refraining from incendiary, politically charged calls for patchwork reforms, Persaud instead dissects the topic as a scientist might, kicking off the discussion with an in-depth analysis of the flaws¬ that have plagued most past and current attempts at financial regulation-and there are many. But the central problem with our financial reform efforts to date, Persaud finds, is that they have been about as effective as treating a cancer victim with a fistful of Band-Aids; when the entire system is compromised, you cannot simply slap a bandage on the next problem that presents itself and hope that you''ve cured the underlying disease. If we truly want to repair the financial industry and prevent future shocks, crashes, and busts, Persaud urges, we must take a step back and look at the financial industry as the highly interconnected ecosystem that it is, rather than allow our current view of it as an assortment of financial sectors and institutions that operate independently of one another to persist. And inReinventing Financial Regulation, Persaud does just that. His unique perspective leads to some unique findings, and he finds that risk managing the financial system as a whole is a very different endeavor from risk managing the industry sector by sector. But most importantly, Persaud''s goal to bring clarity and a powerful simplicity to the financial regulation process results in a systematic and apolitical framework for¬ fixing the world''s fractured financial industry and transforming the regulation of financial markets-and not just for today''s financial climate, but once and for all. Combining Persaud''s deep expertise in the academic, private sector, and public policy realms,¬ Reinventing Financial Regulation¬ is more than just an urgent call to fix our profoundly troubled and damaged financial markets; it is a blueprint for an ultimately effective financial regulation system that could very well save the future of finance.¬ What you''ll learn Why past and current efforts at financial regulation are misguided, as well as why our financial protective measures so significantly failed us during the financial crisis Why it is imperative for us to regulate the financial industry differently than we regulate any other consumer-based industry The concrete steps that leading economies can take to deconstruct their current regulatory models and in their place implement financial reforms that will protect the world economy from shocks, crises, and busts Why you should ignore the financial experts who claim that financial crashes are random and start paying more attention to the role that systemic risk plays in major market downturns Why we must approach financial regulation differently in emerging markets than we do in leading economies, as well as what regulatory structures would best serve the unique needs of emerging market economies Who this book is for Reinventing Financial Regulation¬ is of the utmost importance to the financial industry, regulators, central bankers, politicians, policymakers, economists, and anyone with a bank account. Although it will include descriptions and explanations of some more technical concepts, like systemic risk, it is written in a way to make the pressing topic of financial regulation accessible to anyone with an interest in the health of the world economy.