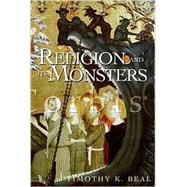 Note: Supplemental materials are not guaranteed with Rental or Used book purchases.
ISBN: 9780415925877 | 0415925878
Cover: Hardcover
Copyright: 11/9/2001
Religion's great and powerful mystery fascinates us, but it also terrifies. So too the monsters that haunt the stories of Jewish and Christian scriptures and earlier traditions: Leviathan, Behemoth, dragons, and other beasts. In this unusual and provocative book, Timothy K. Beal writes about the monsters that lurk in our religious texts, and reveals how monsters and religion are irrevocably entwined. Most of us do not go to monster movies or read Gothic tales in search of religion, at least not consciously. Nor do we go to religious services in search of monsters. Yet, horror and faith, it seems, are inextricable. According to Beal, we can learn something about religion by getting to know its monsters, and we can learn something about monsters by investigating their religious roots. As Timothy Beal follows monsters throughout religious texts and traditions, he also discovers religion lurking in the modern horror genre, from classics likeFrankensteinandDraculato thecontemporary spookiness of H.P. Lovecraft's short stories and theHellraiserfilms. Drawing upon a broad range of ancient texts and popular culture, from rabbinic lore to Goth counterculture, he explores the fascinating and often disturbing ways in which monsters haunt religion and religion haunts the monstrous. Learned and witty,Religion and Its Monstersis a captivating look at how we imagine good and evil--and what lies beyond.