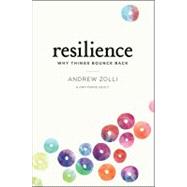 Note: Supplemental materials are not guaranteed with Rental or Used book purchases.
ISBN: 9781451683806 | 1451683804
Cover: Hardcover
Copyright: 7/10/2012
In an age wracked with devastating natural disasters, global economic meltdowns, and escalating political turmoil, Resilience uncovers the hidden interconnectedness of systemic failuresboth natural and man-madeand shares paradigm-shifting lessons in recreating stability and sustainability in a volatile world. When the fallout of Hurricane Katrina led to staggering oil price hikes in the U.S., domestic farmers were encouraged to produce ethanola cheap byproduct of cornas an alternative fuel. However, with the American export of grossly marked down crops, Mexican farmers were practically put out of business while locals faced a 400 percent increase in the cost of regionally grown corn for tortillas. A crisis was at handand this was just one of many to come. Our planet, our economy, and our lives are in a constant state of intertwined upheaval, but instead of taking a doomsday approach to this seemingly inevitable wave of change, Andrew Zolli and Ann Marie Healy offer a powerful new lens through which to view the world. Using the emerging field of resilience research, they explain how we can combat the steady disruption of our ecosystems, businesses, and governments with better shock-absorbers. Resilience is a pioneering book that first observes how catastrophes are resolved within a wide range of disciplines from finance and neuroscience to oceanography and social psychology. Through original reporting, the authors then apply these insights to larger questions: Why are some systems more adept at absorbing change while others completely unhinge? Since most systems are interdependent, how can one stave off the impact of crisis upon another? Provocative and eye-opening, Resilience sheds light on the multifaceted nature of change and gives readers access to cutting-edge toolsdeveloped by the leading thinkers of our timeto help us adapt to an ever-evolving world rather than fall prey to its unpredictability.