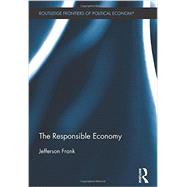 Note: Supplemental materials are not guaranteed with Rental or Used book purchases.
ISBN: 9780415598477 | 0415598478
Cover: Hardcover
Copyright: 11/12/2014
In the last two decades, a remarkable consensus developed in Economics around pro-market reforms; reflected in Friedman-esque polices of tax cuts, deregulation and its promotion of free trade and globalization, though entirely Keynesian, with any slowdown in the economy to be countered by aggressive monetary policy. This book takes the view that the pro-market consensus was wrong in both its microeconomic and macroeconomic theory and practice. After the financial crisis, liberal economists have argued that we need new regulations, notably to control the financial services sector. Frank sees the issue is more fundamental, arguing that whilst enforcement of regulations can limit some of the greater excesses of behaviour, the important intervention is to set up a full set of institutions and legal framework that encourage good behaviour. In policy terms, the book argues for a return to an earlier consensus that emphasised high social investment in the infrastructure and in education, and a monetary policy that smoothes out (rather than seeks to prevent) economic fluctuations. Frank opens new ground in his argument for a re-building and strengthening of non-market institutions that encourage good behaviour and a return to institutions such as usury laws, cooperatives and building societies, defined benefit pensions, and trade unions.