The Return; Russia's Journey from Gorbachev to Medvedev
, by
Daniel Treisman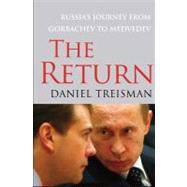 Note: Supplemental materials are not guaranteed with Rental or Used book purchases.
ISBN: 9781416560715 | 1416560718
Cover: Hardcover
Copyright: 1/4/2011
Russia has long been a source of puzzlement and sometimes alarmfor Western observers. Since shaking off communism two decades ago, the country has seemed wobbly at best, thoroughly corrupt and threatening at worst. But in recent years, as noted scholar Daniel Treisman shows in this compelling account, Russia has re-emerged as a pivotal nation in world affairs. InThe Return,Treisman cuts through the myths and misinformation, as well as ongoing academic and journalistic debates, to present a portrait of a strong and independent country that is returning to the international community on its own terms.Drawing on two decades of research, interviews, and insider observation,The Returnprovides the first comprehensive history of post-communist Russia. From Gorbachev to Yeltsin, Putin, and Medvedev, it traces the twists and turns of the country's evolution, uncovering the causes behind Russia's plunge into depression in the 1990s and resurgence since 2000. Rather than a nation frozen in ancient authoritarian traditions, as Russia is often portrayed, Treisman shows a society modernizing rapidly, with a government that, although less than democratic, is sensitive to public opinion but which has been repeatedly buffeted by economic forcesthe collapse of Soviet planning, the gyrations of oil pricesthat have alternately boosted and drained the leaders' popularity. Knocked off balance once again by the global financial crisis, the Kremlin's current bosses must now struggle to reignite the growth on which the stability of their regime depends.As Russia grapples with its economic difficulties, the West will have to come to terms with the new Russia. With its UN Security Council veto, thousands of atomic warheads, continental dimensions, and vast mineral resources, Moscow sits at the epicenter of the toughest challenges the world will confront in the next generationfrom Islamic terrorism and nuclear proliferation to energy security and global warming. To enlist Russia's cooperation in solving the problems of the twenty-first century, Western leaders will need to look beyond common misconceptions to see the country as it is rather than as it has often been imagined or depicted.Based on extensive research by an expert with intimate knowledge of the country, the book provides insight into the prospects for democracy in Russia, the challenges and opportunities of doing business there, the wars in Chechnya, and the motives behind Moscow's foreign policy.The Returnis the ultimate accounting of what Russia is today, how it got there, and where it's going.