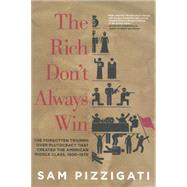 Note: Supplemental materials are not guaranteed with Rental or Used book purchases.
ISBN: 9781609804343 | 1609804341
Cover: Trade Paper
Copyright: 11/27/2012
The Occupy Wall Street protests have captured America's political imagination. Polls show that two-thirds ofandthe nation now believe that America's enormous wealth ought to be "distributed more evenly." However,andalmost as many Americans--well over half--feel the protests will ultimately have "little impact" on inequality inandAmerica. What explains this disconnect? Most Americans have resigned themselves to believing that the richandsimply always get their way.Except they don't.A century ago, the United States hosted a super-rich even more domineering than ours today. Yet fifty yearsandlater, that super-rich had almost entirely disappeared. Their majestic mansions and estates had becomeandmuseums and college campuses, and America had become a vibrant, mass middle class nation, the first andandfinest the world had ever seen.Americans today ought to be taking no small inspiration from this stunning change. After all, if our forbearsandsuccessfully beat back grand fortune, why can't we? But this transformation is inspiring virtually no one. Why?andBecause the story behind it has remained almost totally unknown, until now.This lively popular history will speak directly to the political hopelessness so many Americans feel. By tracingandhow average Americans took down plutocracy over the first half of the 20th Century--and how plutocracyandcame back--andThe Rich Don't Always Winandwill outfit Occupy Wall Street America with a deeper understanding ofandwhat we need to do to get the United States back on track to the American dream.