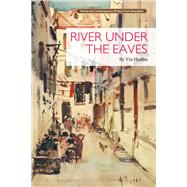 Note: Supplemental materials are not guaranteed with Rental or Used book purchases.
ISBN: 9781602202535 | 1602202532
Cover: Paperback
Copyright: 10/20/2015
Shanghai is one of the cities in China that has been exposed to a great deal of outside influences throughout its history. The author, with a keen eye for observation, has chiseled out the life of common city dwellers in its alleyways from the 1980s to the 1990s in these two stories.

Through the perspective of Gu Longfei, also nicknamed Black Bug, the leading character, River Under the Eaves follows the family through three generations. Sharp-tongued, but soft-hearted, Black Bug's grandmother took care of him and the rest of the family. When Black Bug was young, his father asked for divorce to be with another woman. In return, his mother demanded for the right of the house. His father simply refused and moved out of the house. Adding to the family discord, his father's younger sister Meizi had settled down in the countryside of Anhui Province, and hadn't contacted her mother for many years. Meizi's daughter Zhimin lives in Shanghai, but is not on good terms with the grandmother. Meizi eventually takes care of her grandmother who is later hospitalized under intensive care due to a serious illness. Later, Black Bug's father divorces his mother, and he has to face the death of his grandmother. He then begins to comprehend the love within his family despite their gruff nature at times.

In Jiqing Li, Xiaoyu lives in a new residential area of Shanghai, has a good job and a handsome boyfriend. She then rents a small room on Jiqing Li, desiring to live a truly elegant life in Shanghai. In the same apartment building, it's difficult to avoid the life of her neighbors. There is a young couple with a quick-witted child living on the floor under Xiaoyu. The wife Huang Jiajia is fashionable and astute in handling everyday life, while the husband Jin Ming just seems to be into football. Huang Jiajia is later unexpectedly laid off. She tries to find a new job while failing to be understood by her husband. Mother Zhang and her family live on the second floor. Mother Zhang seems to have a perfect family life, but some secrets unknown to others. Her husband is an accountant working in a rural enterprise out of town and comes back once a week. Their children, who are in different financial situations, treat them differently. Ji Lin, Mother Zhang's grandson whose parents live in the countryside, lives with Mother Zhang. He begins to take drugs after feeling disconnected from his family. Xiaoyu has her own heartbreak when her boyfriend falls in love with another girl. Consequently, she finally moves out of Jiqing Li realizing that life isn't so elegant there. The residents had problems like everyone else, and put on a facade in an attempt to hide them.

Behind these stories is the gap between the cities and countryside, the legacy of the political upheavals of the past, and the price that has come with new found prosperity. The people who resided in the stone gate houses represented the rapidly changing dynamics of the Shanghai metropolis.