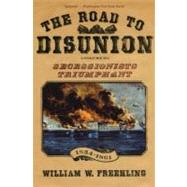 Note: Supplemental materials are not guaranteed with Rental or Used book purchases.
ISBN: 9780195370188 | 019537018X
Cover: Paperback
Copyright: 10/1/2008
The Road to Disunion, Vol. II completes William W. Freehling's monumental study of how the South came to begin the Civil War. Perhaps, as William Freehling surmises, the war was inevitable, because the issue of slavery sharply divided the South from the rest of the nation in the 1850s.Certainly the election of Abraham Lincoln as President in 1860 produced a political crisis that could have precipitated a war. Surprisingly, however, Freehling reveals that as a whole the South took a cautious approach after the election. Most Southerners were waiting to see what Lincoln would do -and especially if he was going to take any antagonistic measures against the South. As it turned out, it was extremists in the South - what Freehling terms the "fire-eaters" - that took over the Southern response immediately after the 1860 election. Ever since the 1830s, but increasingly in the 1850s, these extremists had advocated secession from the Union. Freehling providescompelling profiles of the leaders of this protest - many of them members of the elite in South Carolina, as well as figures such as William L. Yancey and Robert Bowell Rhett. Finally, after the 1860 election, their moment had arrived. Suddenly, what had once been essentially been a fringe movementcame to dominate Southern politics. First in South Carolina and Mississippi, but then throughout the lower South, secessionist views took told, and so began the Civil War.Freehling's narrative brilliantly describes how this tiny minority grabbed hold of the secessionist issue and drove the South to war, showing how a group of fortuitous events worked in their favor. The book is a major contribution to a history of the American South in the 19th Century and to thecoming of the Civil War. It is one of the first detailed accounts of how this small extreme faction led the South to begin the war.