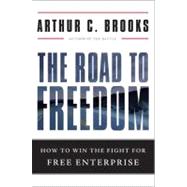 Note: Supplemental materials are not guaranteed with Rental or Used book purchases.
ISBN: 9780465029402 | 046502940X
Cover: Hardcover
Copyright: 5/8/2012
From Arthur C. Brooks, the President of the American Enterprise Institute, comes the follow-up to the hugely influential , The Battle: a candid assessment of how mainstream America can take the philosophy of free enterprise and translate it into political action--restoring both our nation's greatness and our own well-being in the process. In the months leading up to the next presidential contest, free enterprise--that most integral of American values--will be a key focus of the debate. As Brooks argued in The Battle, America today is a nation divided between those who support free enterprise, and those who favor big government and redistributionism. Research shows that 70 percent of Americans fall into the first camp--and yet, in recent years, our government has moved in the opposite direction. The Obama administration has used the economic crisis as an opportunity to curtail free enterprise and impose, in its place, a series of far-reaching socialist initiatives that misrepresent the principles of most Americans, and which fly in the face of the values upon which our country's greatness rests: earned success, human flourishing, equality of opportunity, and basic fairness. In The Road to Freedom, Brooks lays out a concrete, actionable plan for shoring up America's core economic values though public policy. Detailing the initiatives that will solve our debt problems, prepare for the future in an uncertain environment, unleash the entrepreneurs in our society, and guarantee American leadership in the world, The Road to Freedomwill shape the 2012 election conversation as powerfully as its predecessor did the 2010 midterms. A manifesto for 2012 and beyond, The Road to Freedomexplains free enterprise as a moral imperative for America, and translates that imperative into tangible policies that will help politicians set America back on its rightful course.