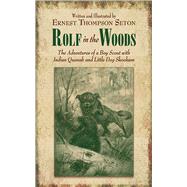 Note: Supplemental materials are not guaranteed with Rental or Used book purchases.
ISBN: 9781620873861 | 1620873869
Cover: Trade Paper
Copyright: 2/17/2013
Set at the beginning of the nineteenthcentury, Rolf in the Woods follows ayoung boy on his journey to becoming a man, learning how to live in thewilderness, respecting animals and nature, and fighting amongst his brethren inwar. When his mother passes away,fifteen-year-old Rolf goes to live with his aunt and uncle on their farm. Buthis aunt's constant scolding and his uncle's drunken violence make living inthis new home unbearable for the gentle boy, and he runs away to live in awigwam with Quonab, a Native American, and his trusty dog Skookum, who teachthe boy how to live off the land, hunt, gather, and understand wild creatures.These newfound skills come into play when Rolf must participate in the War of1812, and he is able to survive by relying on the wisdom the Indian has sharedwith him. Rolfin the Woods isnot only an adventure story but also a guide that teaches young men how tothrive in the outdoors. Ernest Thompson Seton, an avid outdoorsman, providesvivid descriptions of Quonab's lessons, like making a bed with logs,constructing a tom-tom, distinguishing the calls of animals, and making a bowand arrow, and includes over 200 hand-drawn illustrations to make these lessonscome to life.