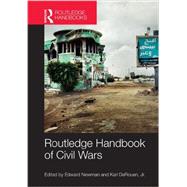 Note: Supplemental materials are not guaranteed with Rental or Used book purchases.
ISBN: 9780415622585 | 0415622581
Cover: Hardcover
Copyright: 3/7/2014
This comprehensive new Handbook explores the significance and nature of intrastate conflict and civil war in the modern world, covering a wide range of topics including micro-level issues as well as broader debates. It includes essays by leading contributors from around the world and will set a benchmark for future research in the field. Civil wars and intrastate conflict represent the principal form of organized violence since the end of World War II, and certainly in the contemporary era. These conflicts have a huge impact in terms of human destruction, the political and economic consequences for communities involved, insecurity across borders, and the impact they have upon international relations more broadly. Intrastate conflict reflects, and also drives, major political change within the societies in which they occur and also internationally. This form of armed conflict therefore forms one of the primary intellectual and practical problems for those interested in organized conflict in the 21st Century. Recent intrastate and regional conflicts in Afghanistan, Pakistan, Iraq, Somalia, Nepal, Cote d'Ivoire and Libya amongst others have global importance and have refocused academic and policy interest upon civil war. This volume represents a state-of-the-art collection of essays on key debates related to the sources, causes, duration, nature and recurrence of civil wars, their political 'meaning' and international impact, and how they are terminated. It considers patterns and types of civil wars, and projected trends for the 21st century, and includes a number of chapters on methodological debates related to how intrastate conflicts should be defined, categorized, and analysed. It also covers some of the key debates related to the study of contemporary intrastate conflict: Is the concept of 'civil war' empirically meaningful in an era of globalization and transnational war? Is it possible to analyze intrastate conflict and civil war 'scientifically'? What are the methodological challenges inherent in making general explanations relating to the causes, nature and dynamics of civil war (compared to case specific explanations)? What are the principal patterns and types of civil war in recent decades? Is the era of 'major' civil wars at an end? Does the 'greed' and 'grievance' debate help us to understand contemporary civil war? This volume will be of much interest to students of civil wars and intrastate conflict, ethnic conflict, political violence, peace and conflict studies, security studies and IR in general.