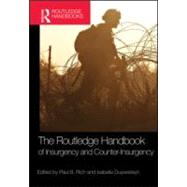 Note: Supplemental materials are not guaranteed with Rental or Used book purchases.
ISBN: 9780415567336 | 0415567335
Cover: Hardcover
Copyright: 2/16/2012
This new handbook provides a wide-ranging overview of the current state of academic analysis and debate on insurgency and counter-insurgency, as well as an-up-to date survey of contemporary insurgent movements and counter-insurgencies.There has been an upsurge of scholarly interest in the field of insurgency and counter-insurgency over the past 30 years, and it is now a major subfield in the discipline of International Relations and Security Studies. In part, this reflects the increasing globalisation of insurgency and the interdependent nature of insurgent strategies and tactics. Student interest in the area has continued to burgeon too, despite the ending of most colonial insurgencies by the early 1980s and the resolution of guerrilla conflicts in Vietnam, Algeria and Southern Africa. Insurgency since this time has evolved into a variety of newer forms in the post-colonial era and has become linked to a variety of conflicts centred on trafficking in narcotics, precious stones and metals, hardwoods and child trafficking. In addition, many modern insurgencies are not necessarily linked to stable state structures but may be a product of fragile or weak state structures prone to degenerate into warlord formations centred on regional, ethnic or clan networks.Moreover, both insurgent and counter-insurgent military strategies have been considerably affected by the evolution of military technology in the post-Cold War era. Insurgent formations are no longer reliant upon the support and assistance of a few major powers involved in a wider Cold War conflict but on a global network of arms dealers. The range of weaponry has become increasingly sophisticated and theories of 'Fourth-Generation Warfare' have intruded into recent analyses of insurgency and counter insurgency, indicating that analyses of contemporary insurgent movement are a often closely related to weak state structures or state failure, as well as aspects of post-Cold War warfare broadly termed 'new wars'. These are shaped by sub-state movements forging and manufacturing newer and varied forms of identity ' often in response to the wider impact of a global media.This handbook will be of great interest to all students of insurgency and small wars, terrorism/counter-terrorism, strategic studies, security studies and IR in general, as well as professional military colleges and policymakers.