On Rumors : How Falsehoods Spread, Why We Believe Them, What Can Be Done
, by
Sunstein, Cass R.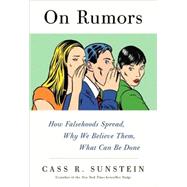 Note: Supplemental materials are not guaranteed with Rental or Used book purchases.
ISBN: 9780809094738 | 0809094738
Cover: Hardcover
Copyright: 9/29/2009
You're being misled. From whom President Obama pals around with to the causes of the current economic crisis, rumor propagators know precisely how to start a rumor and see it entrenched. They are attempting to derail political candidates, ruin companies and reputations, even damage democratic governance. And in the era of the Internet, they know more about manipulating the mechanics of false rumorssocial cascades, group polarization, and biased assimilationthan you do. They also know that the presumed correctivespublishing balanced information, issuing corrections, and trusting to the marketplace of ideasdo not work.On Rumorsexplains what the rumor propagators know, describes why the marketplace of ideas is broken, and offers a solution that challenges a legal tradition tracing back to Oliver Wendell Holmes: reset the "chill" on free speech to dampen false and damaging rumors. A pioneer in the effort "to design regulation around the ways people behave" (The Wall Street Journal), Cass R. Sunstein uses examples from the real world and from behavioral studies to explain why certain rumors spread like wildfire, what we can do to avoid being misled, and what the government could do to discourage those who are out to mislead us.