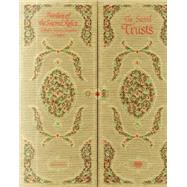 Note: Supplemental materials are not guaranteed with Rental or Used book purchases.
ISBN: 9781597843270 | 159784327X
Cover: Hardcover
Copyright: 12/7/2014
This gorgeous, full-color photographic guide reveals the marvelous collection of the sacred relics at the Topkapi Palace Museum in Istanbul, which houses more than 600 invaluable belongings from prophets such as Abraham, Moses, and Muhammad as well as a number of Muslim saints. Excavated from the most restricted rooms of the palace, the entire selection—including the pieces that are not on exhibit for daily visits—is compiled here for the first time in this fundamental handbook, making it perfect for students interested in Ottoman history, sacred relics of the Ottoman rule, or the broader Islamic heritage.
COLLECTION
The collection consists of many objects, like Prophet Muhammad's mantle, standard, sandal, cup, footprint on a stone, swords, bow, his tooth that broke at Uhud, soil he used for ritual ablution, and his seal. They also include a cooking vessel of the prophet Abraham; the turban of the prophet Joseph; the sword of the prophet David; a strand from Abu Bakr's beard; the Qur'an that is believed to be the one Caliph Uthman ibn Affan was reading when he was assassinated; swords of the Prophet's companions; Fatima al-Zahra's blouse, veil, and mantle; her son Husayn's robe, his turban, and a piece of his mantle; Imam Abu Hanifa's robe; Uways al-Qarani's felt cap; the crowns of Abd al-Qadir al-Jilani and Imam Sharani; the bowls of Jalal al-Din al-Rumi; the gold rain gutters of the Kaba; the gold and silver covers of the Black Stone; a wing of the Door of Repentance; the lock, keys, and covers of the Kaba; objects like hooks, candles, censers a nd rosewater flasks which were used in the Kaba or in
Masjid al-Nabawi
(the Prophet's Mosque); pieces of wood, stone, glass, porcelain tile, etc. used in repair of these places; covers and soil from the Prophet's tomb; and the dust called
Jawhar al-Saadat
[The Jewel of Bliss] which was collected while cleaning the Prophet's tomb. There are also items used for preserving the Sacred Relics through time, or for their transport from the Kaba, such as chests, drawers, covers (embroidered or plain), bundle wrappers, scabbards, and
rahle
s (low reading desks). In addition, there are brooms and dust pans used to clean the Privy Chamber; candles; aloe wood; framed inscriptions written by famous calligraphers or the sultans; writings describing the virtues of the Prophet (
hilya
); prayer rugs and prayer beads; copper and silver bowls; candles; dervish headgear;
zamzam
water pitchers; and handkerchiefs and blocks for printing on handkerchiefs.