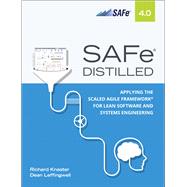 Note: Supplemental materials are not guaranteed with Rental or Used book purchases.
ISBN: 9780134209425 | 0134209427
Cover: Paperback
Copyright: 4/7/2017
"SAFe® 4.0 Distilled is the book we've all been waiting for. It breaks down the complexity of the Framework into easily digestible explanations and actionable guidance. A must-have resource for beginners as well as seasoned practitioners."

—Lee Cunningham, Sr. Director, Enterprise Agile Strategy at VersionOne, Inc.
Adapt or die. That's not just a Darwinian adage or a corporate catch phrase. It's a fact, proven daily in the marketplace. Remember Blockbuster, Kodak, Borders, Palm Computing, Nokia, and Compaq? Many companies that were recently industry leaders are no longer in existence, or are faint echoes of what they used to be.
Recognizing the need to evolve, especially in software and systems development, businesses have pursued the productivity principles first described in the groundbreaking Agile Manifesto. But many have been incapable of integrating these new behaviors. Evolving too slowly, or adopting piecemeal approaches, companies have failed to integrate Agile methods.
In SAFe® 4.0 Distilled: Applying the Scaled Agile Framework® for Lean Software and Systems Engineering, Lean-Agile thought leaders Richard Knaster and Dean Leffingwell explain how adopting SAFe can quickly improve time to market and increase efficiency, quality, and employee engagement. This book synthesizes the robust, transformative concepts now used by thousands of companies around the world, including Hewlett Packard, AstraZeneca, Cisco, and John Deere.
In SAFe 4.0 Distilled, readers will discover
The business case for SAFe: its benefits, the problems it solves, and when to apply it
An overview of SAFe across all parts of the business, levels it describes as "team, program, value stream, and portfolio"
An expanded overview of SAFe's values and principles, which explains why SAFe works
The concepts behind systems thinking, Lean product development, and the value of taking an economic view
How management can "unlock the intrinsic motivation of today's knowledge workers" and transition to become Lean-Agile leaders
How to align company efforts around common goals to speed development using a model called the "Agile Release Train"
In short, SAFe 4.0 Distilled will help you understand and implement the principles driving many of the most successful companies in the world. Enterprises that, in the face of rapid change, continue to thrive and grow.