Saviour Siblings: A Relational Approach to the Welfare of the Child in Selective Reproduction
, by
Taylor-Sands
;
Michelle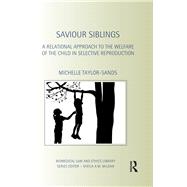 Note: Supplemental materials are not guaranteed with Rental or Used book purchases.
ISBN: 9780415535717 | 0415535719
Cover: Hardcover
Copyright: 12/4/2013
Genetic screening technologies involving preimplantation genetic diagnosis (PGD) raise particular issues about the welfare and interests of the child to be born. For example, should parents be allowed to select a child with particular genetic traits? How does this impact on the identity of the child who is born? Can a child ever be harmed by being brought into existence? Are children who are selected on the basis of their genes treated as commodities? How far should the state interfere with parents' reproductive choices? What is the role of families in promoting the welfare of the child? These questions are arguably most acute in the context of saviour siblings, children conceived using PGD to save the life of an existing ill sibling. In dealing with these issues the welfare of the child is seen as a fundamental principle in regard to assisted reproductive technology. This book proposes to re-evaluate the welfare of the child principle in assisted reproductive technology using applied ethics. It focuses on the controversial topic of saviour siblings and sets out a revised regulatory framework that is supported by clear ethical principles. The book takes a comparative approach critically analysing existing Australian and UK legal frameworks for regulating saviour siblings and argues that a new ethical approach is needed. Drawing on relational feminist and communitarian ethics, the book will argue that the welfare of the child to be born is inextricably linked with the welfare of his/her family. Therefore, instead of focusing on the individual or 'best interests' of the child to be born, the child's interests should be considered in connection with the interests of other family members. The book will propose an alternative 'relational approach' to regulating saviour siblings, based on a broad conception of the welfare of the child that includes both individual and collective family interests. Given its interdisciplinary nature, the book will be of interest to students and academics in the fields of law, health and bioethics.