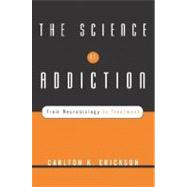 Note: Supplemental materials are not guaranteed with Rental or Used book purchases.
ISBN: 9780393704631 | 0393704637
Cover: Hardcover
Copyright: 2/17/2007
Neuroscience is clarifying the causes of compulsive alcohol and drug use''while also shedding light on what addiction is, what it is not, and how it can best be treated''in exciting and innovative ways. Current neurobiological research complements and enhances the approaches to addiction traditionally taken in social work and psychology. However, this important research is generally not presented in a forthright, jargon-free way that clearly illustrates its relevance to addiction professionals. In The Science of Addiction , Carlton K. Erickson presents a comprehensive overview of the roles that brain function and genetics play in addiction. He explains changes in the terminology and characterization of addiction that are emerging based upon new neurobiological findings, thus making the reader aware of the most current research. The basic tenets of neuroscience are explained as well. Erickson goes on to describe the neuroanatomy and function of brain reward sites, and the genetics of alcohol and other drug dependence. Chapters on the basic pharmacology of stimulants and depressants, alcohol, and other drugs illustrate the specific and unique ways in which the brain and the central nervous system interact with, and are affected by, each of these substances. The material in The Science of Addiction is intended to add to and strengthen the therapeutic approach to addiction. Erickson discusses current and emerging treatments for chemical dependence, and how neuroscience helps us understand the way they work. The intent is to encourage an understanding of the body-mind connection. The busy clinical practitioner will find the chapter on how to read and interpret new research findings on the neurobiological basis of addiction useful and illuminating. The Science of Addiction attempts to help the almost 21.6 million Americans, and millions more worldwide, who abuse or are dependent on drugs by teaching their caregivers (or them) about the latest addiction science research. The book is intended to help addiction professionals understand the foundations and applications of neuroscience, so that they will be able to better empathize with their patients and apply the science to principles of treatment. When professionals learn the proper scientific and clinical terminology, they tend to incorporate it into their everyday language and professional care environment. Thus, the value of this book is great to those who read it with a goal of learning something new. The Science of Addiction equips counselors, social workers, psychologists, and all those working in the field with a thorough understanding of the latest neurobiological causes of addiction, thus ensuring a more knowledgeable and effective approach to overcoming the illness.