Seamus Mullen's Hero Food How Cooking with Delicious Things Can Make Us Feel Better
, by
Mullen, Seamus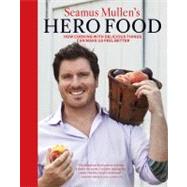 Note: Supplemental materials are not guaranteed with Rental or Used book purchases.
ISBN: 9781449407582 | 1449407587
Cover: Hardcover
Copyright: 4/24/2012
Fromcelebrity chef Seamus Mullen, Hero Foodis not only a cookbook, but a personal philosophy of well-being. The subtitle says it all: "How Cooking Delicious Things Can Make Us Feel Better." Mullen was diagnosed with rheumatoid arthritis five years ago, and in that time, he has discovered how incorporating 18 key ingredients into his cooking improved his quality of life. In Hero Food, he shows how to make these key ingredients, or "hero foods," your cooking friends; they can be added to many dishes to enhance health and flavor. Hero Foodis divided into four sections, each devoted to a season. Each season is introduced with a richly imaged "movie," providing the context of Seamus's life and the source of many of the imaginative and beautiful recipes contained in each seasonal section: Winter: The book opens in Barcelona, Spain, during winter, and focuses on the chef's Spanish formation, featuring many of the Barcelona markets and restaurants that inspire him. Some of the "heroes" featured in the sections that follow are: olive, anchovies, and almonds. Seamus shares recipes for using olive oil in Pickled Mackerel, Crispy Fried Artichokes with Yogurt and Mint, and his favorite vinaigrette. Spring: This section features scenes from a rooftop gathering in New York City where Seamus cooks paella for his "posse," four young and important NYC chefs and restaurateurs: Zak Pelaccio, Marco Canora, Amanda Freitag and TK. Heroes for springinclude eggs, sweet peas, parsley, and berries, with featured recipes such as Tortilla de Patata, Whole Black Sea Bass with Pea and Butter Sauce, and Blackberry and Almond Crumble. Summer: Featuring stunning summer scenes in the Catskills, this section takes place on Early Girl Farm on Long Island, the organic garden of Patty Gentry, a young woman as devoted as Seamus is to growing intriguing vegetable varieties in a mindful way. In "Summer," Seamus utilizes carrots, corn, and stone fruits in recipes such as Chilled Carrot Soup with Yogurt and Tarragon, Steamed Corn with Bacon and Clams, and Confit Duck Leg with Bing Cherries. Autumn: The final section of the book takes us to the farm in northern Vermont where Seamus was raised. Surrounded by family and friendshis mother and beloved grandmother Mutti, from whom he learned so muchSeamus butchers a local lamb and prepares a bountiful feast. Vibrant scenes of Vermont are paired with recipes such as Slow-Roasted Lamb Shoulder with Bitter Greens and Salt-Cured Lemons, Spaghetti Squash Stuffed with Wild Mushrooms and Idiazabal Cheese, and Pan-Roasted Brussels Sprouts with Garlic and Chorizo. Seamus's "heroes" are real food, elemental things like good meat, good birds, eggs, greens, grains, and berries. He cares about how his vegetables are grown, how his fruit is treated, and about the freshness and sustainability of the fish he uses. His hope is that you will eventually forget about why these recipes are good for you, and that you'll make them just because they taste good.