In Search of Bill Clinton A Psychological Biography
, by
Gartner, John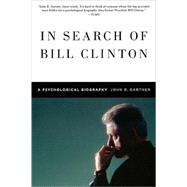 Note: Supplemental materials are not guaranteed with Rental or Used book purchases.
ISBN: 9780312596835 | 0312596839
Cover: Paperback
Copyright: 9/1/2009
William Jefferson Clinton, the 42nd President of the United States is undoubtedly the greatest American enigma of our age -- a dark horse that captured the White House, fell from grace and was resurrected as an elder statesman whose popularity rises and falls based on the day's sound bytes. John Gartner'sIn Search of Bill Clinton unravels the mystery at the heart of Clinton's complex nature and why so many people fall under his spell. He tells the story we all thought we knew, from the fresh viewpoint of a psychologist, as he questions the well-crafted Clinton life story. Travelling to Arkansas and around the world with those who knew Clinton and his family intimately, Gartner uncovers long-held secrets about Clinton's wild and seductive mother, Virginia Kelley, the truth surrounding Clinton's birth, and how Kelley's character set the tone for Clinton's relationship with Monica Lewinsky. He considers Clinton's two fathers and how they might have contributed to his self-destructive nature and looks afresh at Sec. of State Hillary Clinton to see in her the figure of Edith Cassidy, Clinton's stern grandmother who set limits on him at an early age. Gartner brings Clinton's story up to date with his diplomatic triumphs and humanitarianism across the globe, to find out why he is beloved in so much of the world while still scorned by many at home. John Gartner's exhaustive journey provides the richest portrait of Clinton yet, a man who is one of our national obsessions. In Search of Bill Clintonis a surprising and compelling book about a man we all thought we knew.