In Search Of Solutions: The Problem Of Religion And Conflict
, by
Bennett, Clinton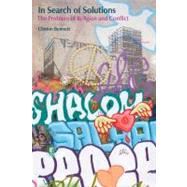 Note: Supplemental materials are not guaranteed with Rental or Used book purchases.
ISBN: 9781845532390 | 1845532392
Cover: Hardcover
Copyright: 8/13/2014
This book sets out to explore three conflict contexts in which religion is generally acknowledged to be at least a factor, although some minimize religion's role while others identify it as a major cause of violence. The book evaluates what role religion does play (or has played) in the Northern Ireland, Bosnian and Israel-Palestinian conflicts including the contribution of the women's movement in Ireland. It takes seriously the psychological tendency to demonise those who do not share our views and will argue that religion, although one factor among others, all too easily lends itself in support of conflict. The author argues that stories of how religion has helped to solve conflict are rare, which is a major handicap when advocating that religion can play a peacemaking role. He argues that scriptures can be used to justify conflict and that an alternative interpretative paradigm is needed if this tendency is to be reversed. Given that, for religious people, the reduction of scriptures to totally human constructs is hugely problematical, the book will argue that the allegorical approach is more fruitful than the option of viewing all scriptures as human response to the divine. Drawing on post-modern theory, the book also argues that, though scriptures may be 'divine', interpretation is always human. However, post-modernity's maxim that there are no single or authoritative interpretations of any text, that all interpretations are equally valid, including those that justify violence, will be rejected on the basis that there is a higher moral ground on which humans should stand which values peace. Drawing on the philosophy of E. W Hocking, the book's conclusion suggests that peace will be best guaranteed when religions transcend their particularities and human individuals commune directly with the divine, without the necessity of organised religions as mediators.