Series 6 Exam Flashcard Study System : Series 6 Test Practice Questions and Review for the Investment Company Products/Variable Contracts Limited Representative Qualification Exam
, by
Series 6 Exam Secrets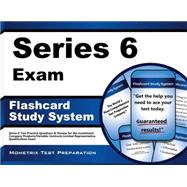 Note: Supplemental materials are not guaranteed with Rental or Used book purchases.
ISBN: 9781610728652 | 1610728653
Cover: Paperback
Copyright: 8/1/2010
SPEX Flashcard Study System uses repetitive methods of study to teach you how to break apart and quickly solve difficult test questions on the Special Purpose Examination. Study after study has shown that spaced repetition is the most effective form of learning, and nothing beats flashcards when it comes to making repetitive learning fun and fast. Our flashcards enable you to study small, digestible bits of information that are easy to learn and give you exposure to the different question types and concepts. SPEX Flashcard Study System covers: Pathology, Immune System, Pharmacology, Anatomy/Physiology, Hiatal Hernia, Primary Immune Responses, Adrenergic receptors, Adenohypophysis, Diabetes Mellitus, Secondary Immune Responses, Decongestants, Respiratory Control Center, HIV and AIDS, CDC Prevention Isolation Guidelines, Cephalosporins, Action Potential, HBV, Gonorrhea, Anti-viral Drugs, Smooth Muscle, Hepatitis Virus, Chlamydia, Aspirin, Kidney Structure, Bleeding Disorders, Phagocytosis, Opiods, Cardiac Control Center, Myasthenia Gravis, Syphilis, Cholinergic Drugs, Receptor Types, Ischemic Heart Disease, Nosocomial Infections, Uricosurics, Nervous System Cell Types, Uremia, Types of Cytokines, Anti-thyroid Drugs, Right vs. Left Lung, Bell's Palsy, Auto-Immunity, Anti-gout Drugs, pH Regulation, Multiple Sclerosis, Virchow's triad, Methylxanthines, Liver Function; Miscellaneous, Medical Testing, Pediatrics, Obstetrics/Gynecology, Surgical Terminology, Babinski's reflex, Birth injuries and Newborns, Amniocentesis, Dementia, Pyelogram Procedure, Acne, Signs of Pregnancy, J tube vs. G tube, Lithotripsy Procedure, Iron Deficiency Anemia, Variable Decelerations, Two types of Dialysis, Romberg's test, CHF in Children, Benefits of Breastfeeding, Maslow's Heirarchy of Needs, Level of Consciousness, Sickle Cell Anemia, Abruptio Placenta, Fall risk factors, Mental Exam, Intussusception, Pregnancy Weight Gain, and much more...