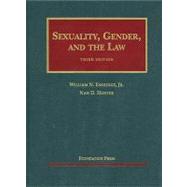 Note: Supplemental materials are not guaranteed with Rental or Used book purchases.
ISBN: 9781599414126 | 1599414120
Cover: Hardcover
Copyright: 5/11/2011
This casebook offers law professors and students a doctrinally comprehensive, theoretically ambitious, and up-to-date exploration of the treatment of sexuality and gender in American public law. Much shortened as well as updated, the Third Edition starts with a doctrinal overview before focusing tightly on Lawrence v. Texas (the leading sodomy case) and Planned Parenthood v. Casey (the leading abortion case) and the post-Lawrence and post-Casey treatment of sexuality and gender in the law. Especially exciting are the casebook's novel materials on the new liberty arguments in favor of discrimination against gay people and women, increasing documentation of discrimination against transgendered people and the law's evolving response, the campaign materials supporting California Proposition 8 and the exciting litigation seeking to overturn California's new ban against same-sex marriage, the "T-shirt wars" in American high schools and the tough First Amendment issues raised therein, the clashes between religion and gay-friendly rules, and the road toward the end of the military's exclusion of lesbians, gay men, and bisexuals, as well as the military's continued discrimination against intersex and transgender persons. There is no area of legal inquiry more interesting and more relevant to people's lives than Sexuality, Gender, and the Law. And the Eskridge and Hunter casebook offers up these treasures in a volume that has fewer pages but more insights than ever before.