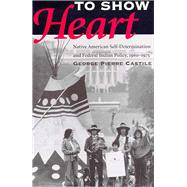 Note: Supplemental materials are not guaranteed with Rental or Used book purchases.
ISBN: 9780816518388 | 0816518386
Cover: Paperback
Copyright: 1/1/1999
Federal policy toward Native Americanshas fluctuated wildly in the twentieth century. Washington long envisioned that Indians would be assimilated into American culture--until FDR's New Deal introduced tribal self-government. Then, during the Truman and Eisenhower administrations, its goal became the termination of federal wardship status for Indians. This book considers the changes in attitude that began in 1960 and culminated in the Indian Self-Determination Act of 1975. Drawing on personal interviews with key players, George Castile goes behind the scenes in Washington to reveal what motivated policy makers--and who really shaped policy--from the Kennedy to the Ford administrations. To Show Heartis a detailed and unbiased account of one of the least understood periods in Indian affairs. It tells how "termination" became a political embarrassment during the civil rights movement, how Lyndon Johnson's War on Poverty prompted politicians to rethink Indian policy, and how championing self-determination presented an opportunity for Presidents Nixon and Ford to "show heart" toward Native Americans. Along the way, Castile assesses the impact of the Indian activism of the 1960s and 1970s and offers an objective view of the American Indian Movement and the standoff at Wounded Knee. He also discusses the recent history of individual tribes, which gives greater meaning to decisions made at the national level. Castile's work greatly enhances our understanding of the formulation of current Indian policy and of the changes that have occurred since 1975. To Show Heartis an important book not only for anthropologists and historians but also for Native Americans themselves, who will benefit from this inside look at how bureaucrats have sought to determine their destinies.