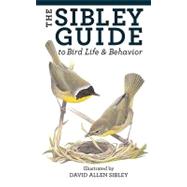 Note: Supplemental materials are not guaranteed with Rental or Used book purchases.
ISBN: 9781400043866 | 1400043867
Cover: Paperback
Copyright: 7/28/2009
"Once in a great while, a natural history book changes the way people look at the world. In 1838, John ames Audubon'sBirds of Americawas one...In 1934, Roger Tory Peterson producedField Guide to the Birds...Now comesThe Sibley Guide to Birds." Thus didThe New York Times, in 1999, greet David Allen Sibley's monumental book, which has quickly been established nationwide as the peerless, standard bird identification guide. The Sibley Guide to Bird Life and Behavioris the new landmark book from David Allen Sibley. Designed to enhance the birding experience and to enrich the popular study of North American birds, the book combines more than 795 of his full-color illustrations with authoritative text by 48 expert birders and biologists. In this new guide Sibley takes us beyond identification, to show ushow birds live and what they do. Introductory essays outline the principles of avian evolution, life cycle, body structure, flight dynamics, and more. The 80 family-by-family chapters describe the amazing range of behavior dictated by birds' biology and environment. Among the subjects covered and illustrated are: --molts and plumages --habitats --food and foraging --vocalizations and displays --courtship and breeding --rearing of young --migration and movements --scientific groupings --introduced species --accidental species --anatomy --flight patterns --nests and eggs --conservation --global distribution Accessibly written, superbly designed and organized, and brilliantly illustrated,The Sibley Guide to Bird Life and Behavioris an indispensable source of information on the avian life around us.