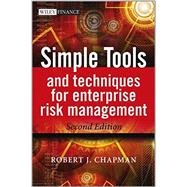 Note: Supplemental materials are not guaranteed with Rental or Used book purchases.
ISBN: 9781119989974 | 1119989973
Cover: Hardcover
Copyright: 12/30/2011
The need to understand risks and opportunities is inescapable when striving to grow any business. Hence a business's ability to prosper in the face of risk is a prime indicator of its ability to compete. However the speed of change in markets, technology and communication combined with the diverse sources of risk, means that for risk management to be effective, it has to be methodical and broad in its approach. Additionally it has to be ingrained in the business psyche, the 'normal way of doing things'. Simple Tools and Techniques for Enterprise Risk Management, Second Edition builds from the bottom up to provide a readily understood methodical approach to risk management, while at the same time describing the diverse sources of risk, to encourage a broad approach. To convey the context of enterprise risk management, the book describes both internal and external sources of risk. The book is divided into five parts as described below, to aid the reader and provide ease of navigation. Part 1 describes the catalysts for and developments in corporate governance, internal control and risk management. Part 2 describes the risk management process being composed of six stages. The inputs, outputs, constraints and enablers of each stage are described to aid implementation. Part 3 describes what are termed management applications, those sources of risk that to a large extent are under the control of any individual business. Part 4 describes the external influences on a business which present sources of risk which in the main are beyond the control of any one business Part 5 examines the procurement of risk management services by a client together with the steps a consultant engages in, in terms of interviewing the client prior to an assignment and the preparation of a proposal, to secure a new commission. The book will be fully updated to reflect the changes in current practice, and feature new materials on new threats, lessons from the recent financial crisis, and how businesses need to protect themselves in terms of business interruption, security, project and reputational risk management. Information technology has the ability to truly revolutionise how a business operates but a total dependence on it means that if it fails, for many, business operations are brought to a standstill. Intellectual property and the products of research and development will determine future market share and growth. If this 'property' is not protected through appropriate security measures that anticipated market share and the profit associated with it will evaporate when it is lost. Businesses implement change through projects. Without managing the risk to that change can at the very least erode bottom line performance and in the most severe cases bring about the demise of a business. Project risk management is now a mature discipline and its implementation has been recently been supported by the implementation of ISO 31000. Project risk management needs to be both implemented in a systematic methodical way but more importantly embedded within an organisation so that it becomes part of its DNA. Reputations can take years to build but hours to destroy. Reputational management cannot be an ad hoc informal process but one that is mapped, implemented and controlled.