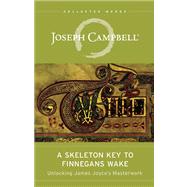 Note: Supplemental materials are not guaranteed with Rental or Used book purchases.
ISBN: 9781608681662 | 1608681661
Cover: Paperback
Copyright: 3/5/2013
Countless would-be readers of Finnegans Wake - James Joyce's masterwork, on which he laboured for a third of his life - have given up after a few pages and dismissed it as a "perverse triumph of the unintelligible". Indeed when it was first published in 1939, the book was met largely with indifference, as readers and critics asked, "Why bother with a book that's so hard to read?" Five years later, a young professor of mythology and literature named Joseph Campbell, working with novelist and poet Henry Morton Robinson, wrote the first "key" or guide to entering the fascinating, disturbing, marvellously rich world of Finnegans Wake. Published in 1944, A Skeleton Key to Finnegans Wake was Campbell's first book, published five years before he wrote his seminal book The Hero with a Thousand Faces in 1949. This beautiful Collected Works of Joseph Campbell edition, authorized by the Joseph Campbell Foundation, is now available in paperback. Although many explications of Joyce's book have been written since the book was first published, none displays the lyrical enthusiasm or passion that Campbell and Robinson brought to their deciphering. "Finnegans Wake is above all an essay in permanence," they wrote in their foreword. "From its perspective, the hopeful or fearful may learn to behold with a vast sympathy the prodigious upsurging and dissolution of forms, the continual transvaluation of values, the inevitable ambiguities, which are the stuff of life and history. Through notes that finally become tuneable to our ears, we hear James Joyce uttering this resilient, all-enjoying, all-animating "Yes", the Yes of things yet to come, a Yes from beyond every zone of disillusionment, such as few have had the heart to utter."